Anderson .Paak — Celebrate
Last year I started adding transcriptions and few words about them in my main blog but after a while I had the impression that this is not the best way to id. So, I decided to split the content and move all bassline transcriptions and other bits concerning music to this place here.
With this very first post, I want to start with a musical discovery I made last year: Anderson .Paak (born Brandon Paak Anderson) and his second album called Malibu. The entire album draws a lot from classic funky and electronic music while his vocals are a refreshing different from typical RnB singers you can hear on the radio. Even though he's on the scene for a while now, he became most famous known for collaborating with Dr. Dre on Compton.
Compared to the rest of the songs, Celebrate is a bit different. Whereas most songs feature the laid back drum and bass grooves that – with the help of drummer Questlove and bassist Pino Palladino – made D'Angelo's neo-soul style famous, Celebrate sounds like a reminiscence to soul and R&B songs from the 60s with a hint of Gospel.
Together with drums and piano, there is a strong emphasis on the one of the beat and occasional eighth note syncopations. Even though these could be the ingredients for a funky beat, it is actually way more relaxed due to the slow tempo and the way the bass plays slightly behind the beat. So my tip to getting this one right: listen to the record!
Transcription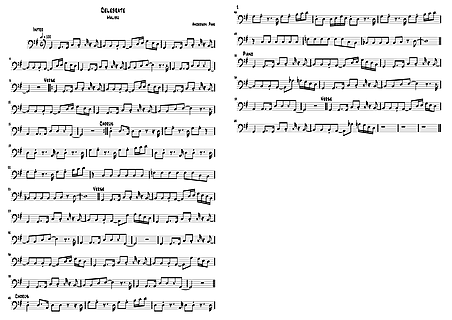 Cover